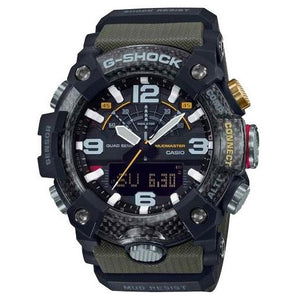 Casio G SHOCK "MUDMASTER" Carbon Core & Bluetooth®
From the MASTER OF G Series MUDMASTER, the watch that is designed and engineered to withstand rough land environments, come carbon resin models that incorporate a new type of structure.
The case is made of high-rigidity carbon material to protect against damage and deformation due to impact and other rough treatment, while metal button pipes ensure a tighter seal against the external environment. A filter further protects against the invasion of mud, for the high level of dust and mud resistance required when in severe environments. In addition, the dual back cover consists of a stainless steel panel back and an outer cover made of shock resistant fine resin embedded with glass fibers.
The bezel is formed of three layers of fine resin with carbon fiber inserts. The top layer is transparent, resulting in a bezel that shows the embedded carbon material.
Model Number : GG-B100 (Olive)
Mineral Glass
Mud Resistant
Carbon Core Guard structure
Shock Resistant
200-meter water resistance
Case / bezel material: Carbon / Resin
Resin Band
Mobile link (Wireless linking using Bluetooth®)
Digital compass
Altimeter
Barometer
Thermometer
Sunrise, sunset time display
Double LED light White
Release : Year 2019