Coca-Cola x G Shock 2023
The Coca-Cola and G-Shock collaboration includes two models: the red DW5600CC23-4 with an inverted and red-tinted LCD display and the translucent green DW6900CC23-3 with a positive LCD display. Both models have a white face with a red Coca-Cola logo.
G Shock 40th Anniversary
Casio unveiled the G-Shock Clear Remix 40th Anniversary Serieswhich includes seven watches with transparent parts and special anniversary markings. The classic digital DW models feature a transparent LCD display background that reveals a four-star symbol on the module's circuit board to commemorate the 40th Anniversary.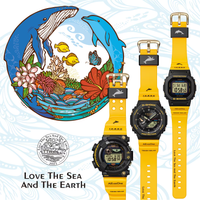 I.C.E.R.C. x G-Shock Love The Sea And The Earth 2023
In a throwback to the 1994 I.C.E.R.C edition with motifs of dolphins and whales, the G-SHOCK LOVE THE SEA AND THE EARTH 2023 version presents a series of 3 G-Shock models in black biomass plastic cases with yellow bands that faithfully preserves their predecessors! With exclusive features such as dolphin and whales as the needle mechanism, and a backlight that reveals the silhouette of a dolphin, this is one Japan exclusive edition not to be missed!
MRG-BF1000R-1A - COMING SOON
A premium, full-metal G-SHOCK MR-G timepiece for the sea — the titanium armor-clad, airtight MRG-BF1000 with ISO 200-meter water resistance joins the FROGMAN family of full-fledged diver's watches.

This MR-G diver's watch takes the unique asymmetrical design, screw-lock case back and distinctive diving frog character — which were so popular when FROGMAN came out back in 1993 — to a whole new level.
SHOP NOW
Location
Our Store (HONG KONG)
STORE HOURS
Monday - Saturday: 3pm to 8:00pm
Sunday : By Appointment **

PHONE NUMBERS
Local: +852 98820255
Whatsapp: +852 98820255