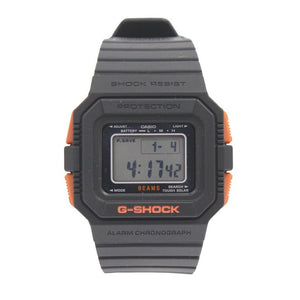 Casio G SHOCK x "BEAMS" SHOCK II
Beams is a Japanese clothing brand, established in 1976 in Harajuku district of Tokyo, whose chief executive officer (CEO) is Yo Shitara. Besides stores in many places in Japan, they have branch offices in New York, Milan, London, and Paris.
Beams department stores carry products such as interior goods, furniture, galleries, clothing, shoes, and accessories. Beams clothing department offers shoes, bags, accessories, men's and women's casual, as well as custom tailored pieces. Beams logo and artwork are seen as abstract and have a cartoonish look.
Model Number : G-5500BE
Mineral Glass
Shock Resistant
200-meter water resistance
Case / bezel material: Resin
Resin Band
Countdown timer
EL:Blue Green
Tough solar
Release : Year 2007